Start-Up: Conferize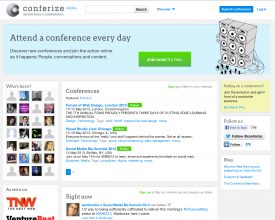 Conferize is a social platform for event organizers with the view to recruiting participants. As an organizer, you can build a community in which you are able to network and talk about your event - before the event, during and after.
You are able to fully format your conference page in line with your corporate image, give your sponsors visibility, send messages to your followers, and build promotions through social media and, of course, monitor all the activities of your audience.
Clients from all over the world will be able to discover, follow, and attend your conference through Conferize. This platform can be a powerful tool for your customers, allowing them to connect with fellow professionals and remain up to date regarding the latest developments in their field. With Conferize your clients are able to follow your conference in real time. Your customers will be able to access interviews, videos, presentations, photos, and everything else available on the Internet about your conference. Conferize is free to your customers.  
Conferize will soon be launching its beta platform to more than 1.5 million end users. The company also develops customized services for a number of organizers in the conference sector.
Conferize is currently offering free trial subscriptions. So it's definitely the perfect time to give this great tool a try.
In this 'Start-up' series we discover starters with an innovative offering that is beneficial to the event sector.
www.conferize.com
16-05-2013