Mobile Apps for Events - Free Ebook There are hundreds of possibilities when you want an app for your event. How do you choose the right solution? Julius Solaris wrote a free e-book 'The Event App Bible' to help you out.
To write The Event App Bible Julius reviews over 300 app providers - shortlisting 50+ of them in an unprecedented effort to give you a simple tool to quickly evaluate your event app needs. The report will not rank apps, nor will it tell you the top providers to choose. It is an objective overview of the market offering.
"While researching the project, we were astounded to find very little data to support the effectiveness of mobile apps for the event industry. Nevertheless, success stories are growing substantially, hinting at a positive effect of mobile apps on the event ecosystem", Julius says.
Mobile apps are destined to become one of the most popular pieces of technology for the event industry as they are fuelled by the as- tounding growth in smartphones' adoption.
The most substantial piece of research on the topic was a survey conducted by Expo Magazine in which 21% of event professionals interviewed stated that smartphone apps were a top priority investment for 2012. That number is up by 18% when compared to 2011.
The value of mobile event apps is still dependent on implementing and designing a wise event app program. In fact, results to prove their value tend to vary case by case. Elements like attendee research, organization, tech friendliness, effective measurement framework, and organization buy-in, seem to usually predict a successful app program, pretty much mimicking the social media and wider technology environment. One of the most recurring issues with technology adoption is that choices are sometimes influenced by fashion and peer pressure rather than being the result of thoughtful analysis. The results of such approach are usually disappointing. Disappointing results and low ROI usually spark a vicious cycle of distrust in the real value of technology.
Download the free e-book The Event App Bible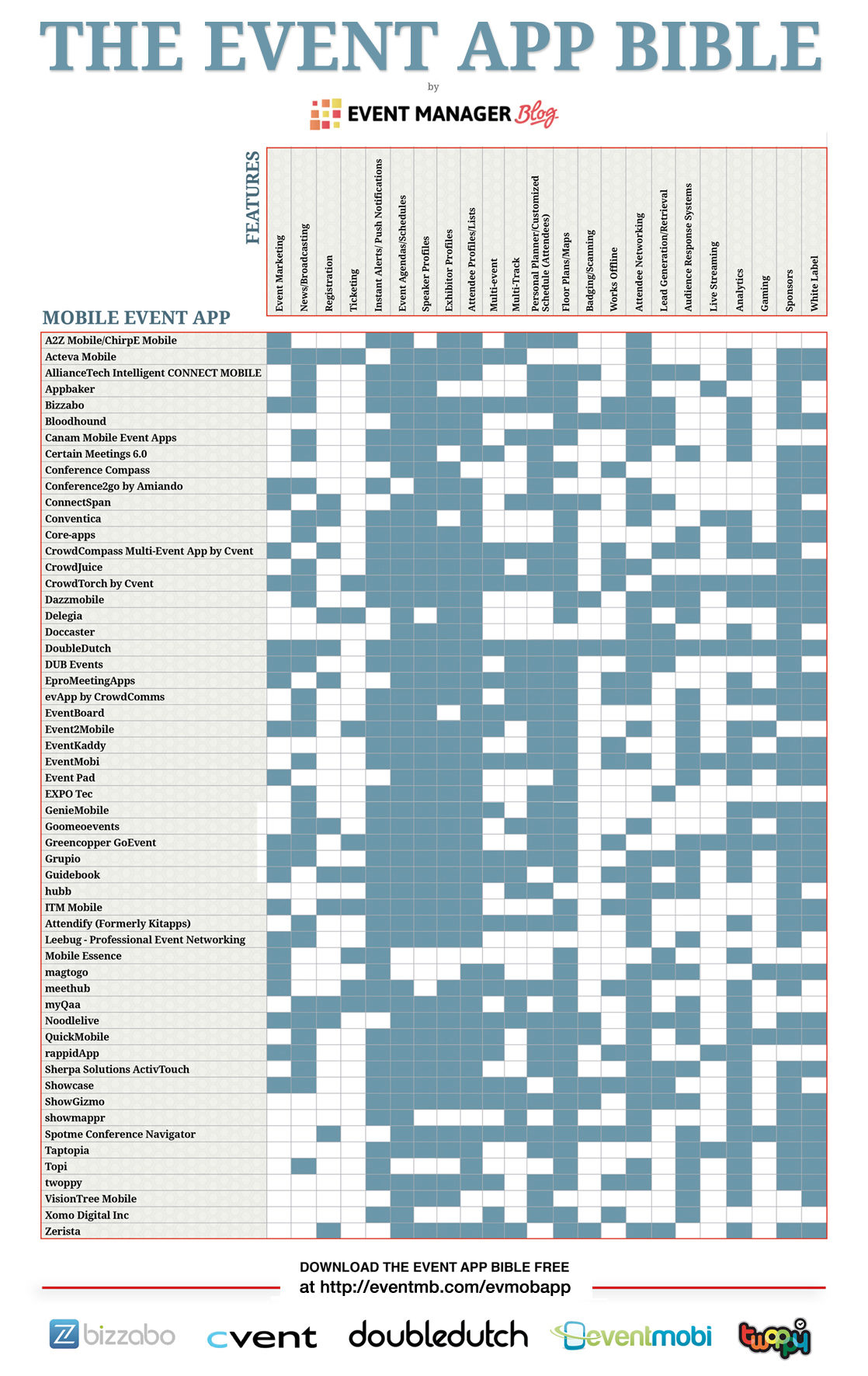 16-05-2013