Start-Up: Eventhread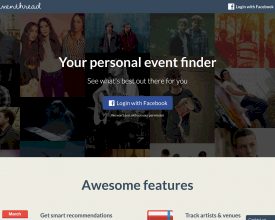 How would you like to never miss a single performance by your favorite band ever again? And how about always being informed about the best parties in town? And do you think it's important to be the first to discover the hottest event at a new and unique location? If so, then register at eventhread.com
With this new web app you can create your own profile and enter your favorite artists, genres and locations. Based on your preferences, the application will search events, locations, and music websites. You get a list of recommended events based on your tastes, interests, budget and location. That means you will never have to miss anything again!
This platform offers marketing opportunities to organizers.
In this 'Start-up' series we discover starters with an innovative offering that is beneficial to the event sector.
www.eventhread.com
11-01-2014