Start-Up: Zkipster zFace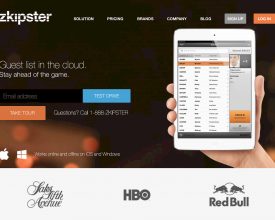 Zkipster is a software application for the digital management of guest lists via iPad, iPhone and Windows 8. Adding a last-minute guest? Faced with long queues at the check-in, or someone impersonating another?
Zkipster definitely makes all the disadvantages of paper guest lists a thing of the past.
The digital guest list is constantly updated, and readily accessible to each check-in officer through their own device. In September 2013, Zkipster also introduced the zFace Picture Guestlist. With zFace you can:
attach faces to names

search for photographs of guests on the web and upload the results within minutes

ntegrate the photos in the Zkipster guest list using cloud storage
No more having to deal with guests who impersonate others in order to crash your exclusive event. 
In this 'Start-up' series we discover starters with an innovative offering that is beneficial to the event sector.
www.zkipster.com
31-01-2014