SFX Entertainment Acquires Paylogic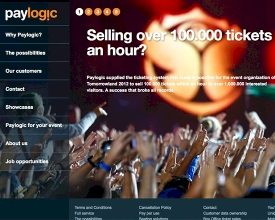 SFX Entertainment, the world's largest producer of live events and entertainment, announced today that it has acquired 75 percent of Paylogic, a leading new generation ticketing company in Europe. The company is valued in the deal at approximately $22 million.
With offices in Amsterdam, Groningen, Berlin and Antwerp, Paylogic recently began operations in the United States, handling the introduction of the initial TomorrowWorld festival outside Atlanta. Paylogic has sold more than 20 million tickets to fans from more than 150 countries for events in more than 20 countries in Europe, Latin America, Asia, Africa, and the U.S.
Paylogic specializes in handling large peak sales. The company has provided exclusive ticketing services to SFX brands such as Sensation, Mysteryland, Q-dance, Tomorrowland and most recently, TomorrowWorld. Paylogic will continue to be a white-label service provider to event companies outside of SFX, maintaining its recognized high level of customer service and data protection/customer confidentiality.
"Paylogic has consistently proven its ability to handle unprecedented ticket requests", said Robert F.X. Sillerman, Chairman and CEO of SFX Entertainment. "This kind of technical skill will be invaluable to us as we connect the millions and millions of EMC fans to the content and events they love, and to each other through integrated social media."
"It is very exciting to become part of this growing, worldwide EMC company SFX", says Jan Willem van der Meer, CCO of Paylogic. "SFX clearly has a strong vision on how this market will develop and how important supporting the right data strategy for event organizers and delivering great product design and social integrations will become. SFX has the digital partners, brands and strategy that can really make a difference. We are excited that we can play a big role in this incredible journey."
03-12-2013