Embarrassing Moment for Michael Bay during Keynote Speech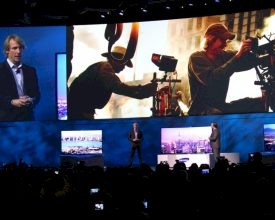 Michael Bay did not make a good impression at the Las Vegas Consumer Electronics Show (CES). During delivering Samsung's keynote speech, his teleprompter failed suddenly. The 'Transformer' director, who was already pretty nervous on stage, simply imploded and walked off.
"Wow! I just embarrassed myself at CES", the Hollywood millionaire wrote later on his blog. "I got so excited to talk, that I skipped over the Exec VP's intro line and then the teleprompter got lost - then I walked off. I guess live shows aren't my thing."
Stage Fright
Michael Bay is not the only who suffers from stage fright. Mashable found a few other examples of embarrassing moments on stage on YouTube. Ashlee Simpson lip-synced her song during the TV show 'Saturday Night Live'. The singer panicked when the band began to play the wrong number and she was completely out of sync.
Senator Marco Rubio clearly suffered from nerves during this speech:
 Even X-Factor is full of painful moments. Here are some excerpts:
08-01-2014