Start-Up: Livecube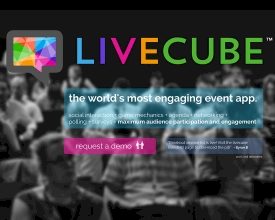 "The world's most engaging event app", that's how Livecube announced it. Involving your audience to the maximum and committing them a 100 % to your event - that's their aim.
How do they achieve that? By employing social interaction, gamification mechanics, good scheduling, networking opportunities, and poll and surveys. Livecube integrates it all.
How does it work? You set up your event schedule in Livecube and fill in the information about the speakers and sessions. You send your participants a short URL that leads them to this schedule. They register and click on the session they are attending. During the session, they can tweet and retweet. New tweets are immediately visible to everyone, and the most popular ideas are at the top. Depending on their tweets and other activities, users earn points and badges and they gain levels. Afterwards they have a record of the best ideas, they are linked with other participants, and they can give feedback.
As an organizer you have a clear overview of the number of participants and the tweets and retweets about the session. You can immediately see how active your audience has been. Finally, just this: Livecube lends itself to all kinds of events, from conferences to exhibitions, to online events. The web app is responsive, works on all devices (laptops, tablets/iPads, smartphones) and runs on iOS, Android, Windows Phone and Blackberry.
In this 'Start-up' series we discover starters with an innovative offering that is beneficial to the event sector.
www.livecubeapp.com
05-04-2014