Start-Up: TableCrowd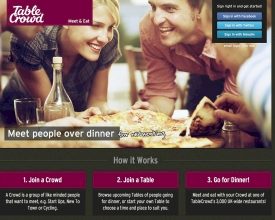 With the TableCrowd app you can create your own small event network. The idea is simple. Are you new to the neighborhood and would like to get to know people? Do you enjoy exchanging ideas with like-minded people? Or would you like to make new contacts to expand your business? The answer? Organize a dinner with the TableCrowd app.
Sign up and join a 'Crowd' that interests you. Browse around the planned dinners of that 'Crowd' and join the table. Or make your own table when and where it suits you best. This is a fantastic example of how people take matters into their own hands by creating mini-network events themselves. But there could be one drawback: This may mean the end for professional event planners... ;-)
In this 'Start-up' series we discover starters with an innovative offering that is beneficial to the event sector.
www.tablecrowd.com
01-02-2014