Start-Up: Pickevent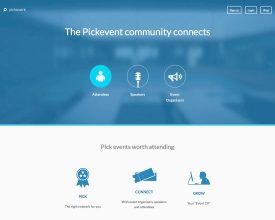 Through Pickevent event organizers, speakers and attendees are able to network directly with each other. Whichever of those three categories you fall under, a profile on Pickevent will give you more visibility, strengthen your reputation, and increase your business potential.
Creating a profile on Pickevent is effortless if you're already on LinkedIn. You can simply sign up through LinkedIn. As an attendee, you can find out easily and quickly about interesting events. You can follow event organizers and opinion leaders, or connect directly with them. Attendees follow one another, maintain contacts, expand their network, and grow their 'Event CV'.
As an event organizer, it makes your job easier. Through Pickevent you immediately see who's interested in your event and how you can promote your event even better.
Speakers promote themselves and build their own community. In so doing, they put themselves and the events at which they speak in the spotlight. This is also a great way to create more opportunities for themselves to speak at events.  
In this 'Start-up' series we discover starters with an innovative offering that is beneficial to the event sector.
www.pickevent.com
12-05-2014