Start-Up: socialbungy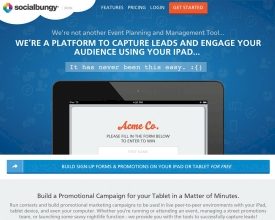 Socialbungy is a platform that allows you to use your iPad or tablet device to generate leads and actively engage your target market in your product or service.
The beauty of this is that you don't need a developer or designer, but can easily create sign-up forms yourself. You simply choose which fields you want to fill in and, without any fuss, adapt the layout of the form to reflect your corporate identity: load your logos and images in a jiffy, choose your colors and backgrounds.
What can socialbungy be used for? Doing trade shows or exhibitions? Then use your iPad to fill out competition forms or enter orders from your promotions. Field marketing? Socialbungy is the ideal platform to instantly register the people you're addressing. You can even add your staff and their working hours and track their actions in real-time. Or simply leave an iPad in-store where you're running promotions and where customers can leave their details themselves, for example to get a voucher or a refund. A useful tool for your marketing campaigns in retail!
In this 'Start-up' series we discover starters with an innovative offering that is beneficial to the event sector.
www.socialbungy.com
21-03-2014