100,000 Free Event Management eBooks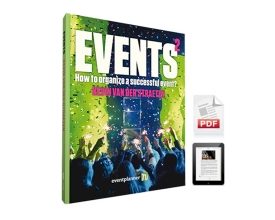 Bestselling author Kevin Van der Straeten is giving away 100,000 digital copies (worth € 17.50) of his book EVENTS²!
EVENTS² is a reference guide for every organizer of events, conferences, ... and parties. This new edition on event planning and event management is thicker than ever before, offers more depth and insight, and also contains a whole host of entirely new topics that you, as an organizer, simply cannot afford to miss!
Download your free* copy here!
* Choose the digital version of the book and use the voucher code 'EVENTS2'.
UPDATE - All 100,000 free books are gone. So sorry, the voucher code won't work anymore.
The only thing we ask is a tweet or Facebook post with a link to support this promotion.
Why 100,000 free copies of EVENTS²?
Marketing budgets are under pressure. The result? Savings are made by cutting the organization of events. And that's a shame, because an event is one of the most powerful communication channels available and the experience of it continues to resonate long after the event. By sharing 100,000 free copies of the EVENTS² book, Kevin Van der Straeten wants to emphasize the power of events with the general public.
15-04-2014