Robots Replace Congress Participants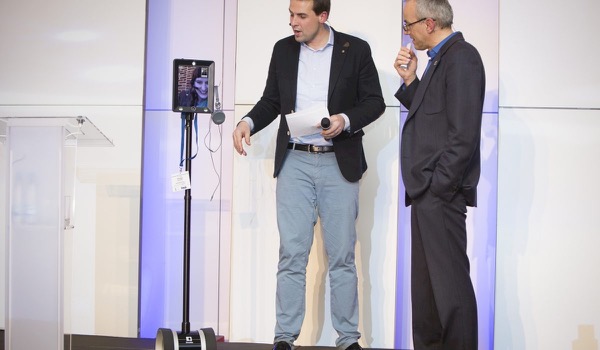 A first in the history of events: the first so-called 'Cyborg participant' attended the FRESH14 congress in Copenhagen. A human participant was 'present' at the conference in the form of a robot. At the same time this lady was able to stay home with her baby.
She controlled the robot from home with her iPad. The robot displayed an image of her face and at the same time she received images and sound from the conference through the iPad. She listened to the speakers, went from one meeting to another, and even took part in discussions. During coffee breaks, she talked to other participants, or visited the booths.
With this innovation, FRESH hoped to examine whether it's feasible to 'attend' conferences remotely in this way. This experiment is just one of the many innovations that was explored during FRESH14. Innovation in the conference, meeting and event sector is, after all, the FRESH objective. This year more than 200 participants from 25 different countries took part live. Event professionals followed the congress online from countries as far afield as Mexico, South Africa, Canada and Korea. And for the first time, a remote participant effectively walked around among the regular participants.
Wondering what this means? Will we soon be seeing whole groups of robots at conferences, or will it remain an exceptional, innovative and remarkable experiment? To be continued.
Source: Photo: FRESH 14 - 03-02-2014