Start-Up: Beatswitch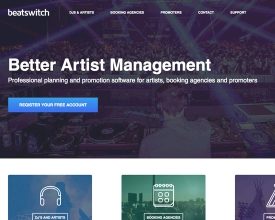 BeatSwitch is a cloud based web platform that allows artists, booking agencies and festival organizers to integrate and work together more efficiently. The main functionalities of the site feature artist planning, hospitality and accommodation, and transport management.

Through BeatSwitch, booking agencies can communicate directly and work with promoters to arrange and schedule performances.

Festival organizers are able to slot in planning and communicate with the appropriate people in the industry in real-time. Thus festival promoters finally have a digital tool which enables them to run their organization from the office (PC, laptop) or from the festival site (tablet, smartphone).
In this 'Start-up' series we discover starters with an innovative offering that is beneficial to the event sector.
www.beatswitch.com
03-05-2014