Panic at the Disco! Overenthusiastic Dancer Knocks DJ Booth Down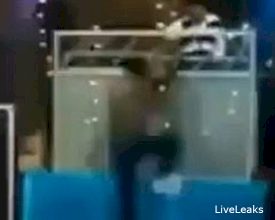 Weird - This is the moment an overenthusiastic disco dancer gets stopped in his tracks as he manages to bring the stage down on top of himself mid-routine.
A cell phone video on LiveLeak shows the unidentified man gyrating to a pounding music track on an LED dance floor. After dipping down and back up on his knees, he then sashays over to the DJ booth where he dramatically attempts to climb it before the whole thing comes crashing down...
For the DJ this will be close to his worst nightmare what shows in his somewhat inappropriate reaction.
23-07-2014