Future of Events Cancelled, Applied for Bankruptcy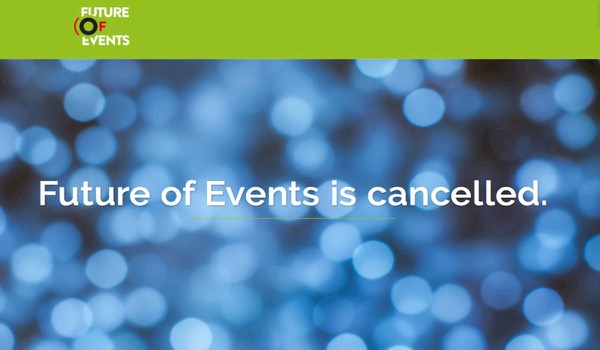 Steven Wickel, CEO of Future of Events, announces on the website of the international event that the trade show/congress is cancelled. The ticket sales are lower than expected, and Steven sees no other way out than to apply for bankruptcy.
Future of Events was supposed to be a novel mix between a congress and a trade show and was going to take place between 22 and. 24 August 2016 in RAI Amsterdam. The concept was rock solid and the list of international keynote speakers was impressive. Still, to many the bankruptcy is no surprise. Already in an early stage, there were some internal rumblings at the organiser, which caused rumours to start circulating. Our colleagues at eventbranche.nl even have information about an international mailing that was sent to warn people about the event.
The integral declaration which was posted on the Future of Events website:
Update on the status of Future of Events. Despite extensive social media promotions, a weekly growing visitor rates on our website, the best line-up of industry speakers, contributors and top exhibitors, I see very low tickets sales.
This low number of attendees forces me to make an economic decision and cancel Future of Events Amsterdam.
I am aware this message must come suddenly and I guarantee, we have gone above and beyond to make the event successful.

I share your disappointment and will encourage and support all members of the team in their next steps.

It has been a privilege to work with this team and you as our partner.
Presently, Future of Events will file for bankruptcy. By Dutch law this means that a curator will be appointed by a Dutch Court of Justice, to dismantle all obligations of Future of Events.

The correspondence address of the curator will be published on the website of Future of Events by the end of next week.
Therefore, and with regret, I can only wish everybody success in the future.
We thank you for your trust and support.
Kind regards,
Steven Wickel
Founder
28-07-2016